One of the pictures which brought wooden heels to my attention was Alexa Chung on the front of Vogue March 2010. She was of course wearing a very expensive pair of Chanel clogs and although I do like clogs I thing I would personally wear them (well maybe I would) but there is much more wearable option that kind of achieves the same effect.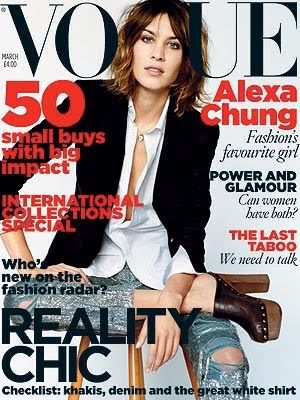 Wooden heeled shoes with or without a wedge. However I found that there is very few on the Great British high street and only a few online. Here are a few of my favourites…
1. Kurt Geiger-
Carvella £75
2. Top shop
WINK Slash Side Wedges £65
3. New look
Interwoven Platform £25
4. river island
platform strap sandal £49.99
5. ASOS HEPBURN
Leather Zip & Buckle Platform
£55
6. Dolce Vita
Multi Halo Strap Wedge Sandal £110
Do you like wooden heels? Would you wear clogs? Which ones are your favourite?
Sabrina X